To better help you understand how your app is performing, LeanSentry automatically classifies each request into one of the following:
Fast requests succeeded within the fast response time for the requested URL. The fast response time can be set for each key URL group, and defaults to 2 sec.
Sluggish requests took longer (less than fast response time x 4) but were still tolerated by the user.
Slow requests took longer (more than fast response time x 4), frustrating the user.
Failed requests had an error, also frustrating the user.
NOTE: This classification scheme is based on the industry standard Apdex specification. To learn more about the mathematics behind this classification, and why its better for monitoring website performance than average latency, see Why average latency is a terrible way to track website performance … and how to fix it.
Tracking request satisfaction
You can view the application-wide summary on the Health page for each application, and the URL-specific summary on each URL page. Use the overall counts of fast, sluggish, too slow and failed requests to quickly assess whether the URL has a performance or error problem: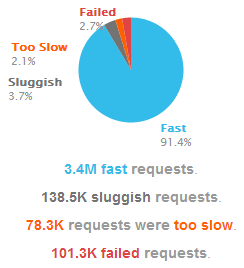 On the Health Page, you can also view the trend of how many of each request type you've had over time. This makes it easy to spot any problematic areas where your application experienced slowdowns or failure spikes.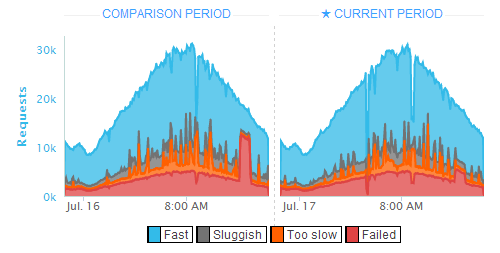 Setting the response time SLA
By default, the fast response time for each URL is 2 seconds. You can override it by setting it on each URL page:
When you change the fast response time, it will apply to future requests to the URL. The change will usually take effect within a minute or so.